Articles, Interviews, Videos
Who's Online
We have 25 guests online
Interview with a Witch! Our exclusive interview with Cyrina Fiallo, Supernatural's Delta Mendota
Sunday, 18 November 2012 06:09
Our exclusive interview with Cyrina Fiallo (Supernatural's Delta Mendota from 'A Little Slice of Kevin')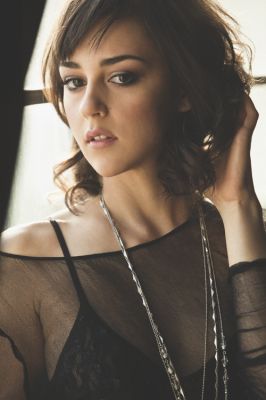 WinchesterBros:  Were you a fan of Supernatural before you got your part?
Cyrina Fiallo:

I had always heard so much about the show, but sadly, had never actually seen an episode! I was really excited about the audition, so I watched a bunch (thanks to Netflix) and got myself caught up. After the first episode I was hooked, and now I've got my entire family hooked as well!
WB:  How did you get the part of Delta Mendota?
CF:

My lovely agent and managers worked to get me in the room. The casting directors in that office are so sweet, I got called back the same day and was on a plane to Vancouver a few days later!
WB:In your scenes, you got to work with some great actors, Osric Chau, Lauren Tom, and Mark Sheppard. Can you tell us what it was like to work with them?
CF:

It's always a bit nerve wracking being the "new girl" on set, but with this group, it didn't feel that way at all. They were all SO welcoming and I felt we got along right away. Lauren is a sweetheart, Mark is a sarcastic charmer, and Osric and I were instant friends. We get to hang out every time he comes to LA!
WB:  Although Jensen and Jared weren't in your scenes, did you get to meet them?
CF:

Alas, I did not. However, everyone was constantly talking about them on set and how amazing they are, so I hope I get to meet them one day! Also, that was basically the first question everyone asked me when I got home. I broke a lot of hearts.
WB:  Your character had some great lines. Which one was your favorite?
CF:

Thanks to Eugenie Ross-Leming & Brad Buckner I had a lot of fun lines to work with. My favorite one has to be, "I'm mercurial". There are so many ways to say that line. I think it's the only time anyone might feel bad for Delta. She just can't help it. Witches be crazy.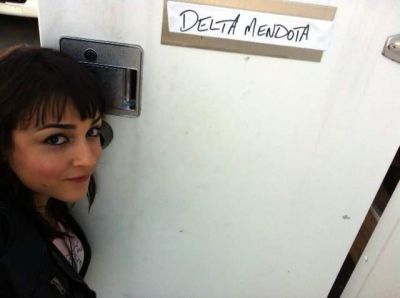 WB:  We didn't see your character actually die. Is there a chance we could see her again?
CF:  I'm going to dream big and say there's always a chance for anything. Maybe I get the garage band back together and we lure people to destruction like sirens.
WB:  How many days did it take to film your scenes? Can you tell us what your time on set was like?
CF:

I flew out to Vancouver on a Thursday, filmed for about 14 hours on Friday, and flew back to LA on Saturday. It was definitely a whirlwind. Like I mentioned before, I was so thrilled with how inviting everyone was on set. It was such a fun experience. There was a large chunk of downtime at one point, so Osric and I explored an abandoned set and took some fun pictures. I'll post them on twitter soon :)
WB:  Jim Michaels, Supernatural's executive producer, was also an executive producer for Everybody Hates Chris which you were also on. Did you meet Jim during that time?
CF:

I don't believe I met Jim while working on Everybody Hates Chris, but when I saw him in Vancouver he remembered me! It was such a nice surprise. He was so sweet, and being that EHC was one of my first jobs, and Supernatural was my newest to date, it was pretty special.
WB:  Had you been told about the Supernatural fandom, conventions, etc? Would you be interested in doing conventions?
CF:

When I told people I was going to be on Supernatural, I wish I could have taped some of their reactions for you. I had so many people tell me that it's their favorite show. It made me feel really blessed to be a part of something like that. I went to Comi-Con a few years back and it was INCREDIBLE. I love when large groups of amazing people get together to show their fandom, so I would be ecstatic to be part of a Supernatural convention.
WB:  Do you have any upcoming projects that you'd like to tell us about?
CF:  I'm in a cover band called "The Girls"

(who sing other people's songs)

with fellow actresses Julianna Guill and Alison Brie. We did a show earlier this year in NYC with the band "Jones Street Station". We have a show coming up at the Viper Room December 14th, so we've been rehearsing a lot for that. I'm also in the middle of writing my third feature with my writing partner Chrissie Fit. We hope to get one of our projects made soon!
Last Updated on Sunday, 18 November 2012 06:29
Mailing Address for Supernatural
Supernatural Films Inc
8085 Glenwood Drive
Burnaby, B.C.
V3N 5C8
Canada